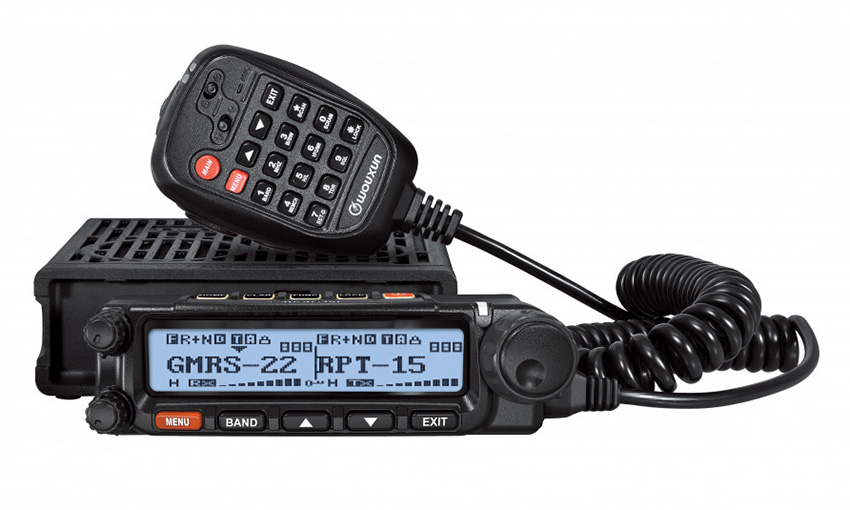 The KG-1000G is the mobile two way radio that GMRS fans have been waiting for. With 30 GMRS channels and the ability to receive on multiple bands, this 50 watt powerhouse is packed with a plethora of features and functionality that goes well beyond the limited capabilities of the typical GMRS radio - and at a very cost effective price.
The KG-1000G has 999 programmable memory channels with CTCSS and DCS encode/decode, built-in NOAA weather channels, simultaneous reception, priority channel scanning, CTCSS/DCS scan, simultaneous dual mode operation, and an FM radio. You can select wide or narrow bandwidth (25KHz/12.5KHz) and select from four output power levels for optimal transmission. It also supports DTMF encoding/decoding.
But that's just for starters. The Wouxun KG-1000G isn't just a mobile two way radio, it's also capable of connecting to a second KG-1000G to become full base or mobile repeater! Yes, that's right. You can connect two KG-1000G radios together using the short (SCO-001) or long (SCO-002) display connection cables included in the package to create your own working repeater! How's that for versatility?
And that's not all. The KG-1000G has dual speakers with multiple speaker channel settings, plus a speaker built into the DTMF hand microphone. That's three total speakers!
But wait, there's still more. All the standard features of a Wouxun mobile/base station are there too, such as the 1750Hz burst tone, Channel Name edit and display, group calls, 8 group descrambler, APO power management, stun and kill function, external speaker support, 3 configurable front panel buttons and a built-in cooling fan with adjustable cooling control. All extras, and for no extra fee.
And just when you thought it couldn't get any better, there's still more. A large, dual frequency LCD display is part of the KG-1000G as well. The backlit buttons on the front panel help you see them in the dark. The full featured keypad on the handheld speaker mic is also backlit and voice prompts assist you with menu navigation.
KG-1000G Features
30 GMRS Channels
8 Built-In GMRS Repeater Channels
999 Custom Memory Channels
50-53.995 MHz Receive Only Frequencies (6m)
108-179.995 MHz Receive Only VHF Frequencies
320-349.995 MHz Receive Only Frequencies
400-479.995 MHz Receive Only UHF Frequencies (70cm)
700-985 MHz Receive Only Frequencies
AM 108-136MHz (RX)
Built-in NOAA Weather Channels
Repeater Capable
Tune Specific Frequencies Directly (Frequency Mode)
8 Group Descrambler
50W Maximum Transmit Power
FM Radio
4 TX Power Levels
Channel Scan
Priority Scan
Supports 10 Scan Groups
Simultaneous Scanning on A/B Areas
CTCSS/DCS Tone Scan
Wide/Narrow Bandwidth Selectable
Busy Channel Lockout
Repeater Mode (Requires 2nd Unit)
Companding
Standard and Non-Standard CTCSS/DCS
Split CTCSS/DCS Tone Support
Large LCD Dual Frequency Display
Three Color Selectable LED
Backlit Keypad
Channel Name Edit and Display
Battery Meter
Minimum Operating Voltage Settings
Adjustable Cooling Fan Control
Automatic Temperature Testing
APO Power Management
Timeout Timer
Keypad Lock
Audible Button Beeps
English Voice Prompts
Dual 3.5mm External Speaker Ports
Offset Frequency ProgrammableReceive AM Transmissions
Auto-Detect AM Transmissions
Group Call, All Call and Selective Call
Incoming Caller ID Display
PC Programmable (Requires Optional Cable)
Dual Speakers
Multiple Speaker Output Settings
3 Configurable Front Panel Buttons
Backlit DTMF Hand Microphone With Speaker
Cooling Fan
Remote Front Panel Installation Option
DTMF Encoding and Decoding
Stun and Kill Function
Reset
One Year Manufacturer Warranty