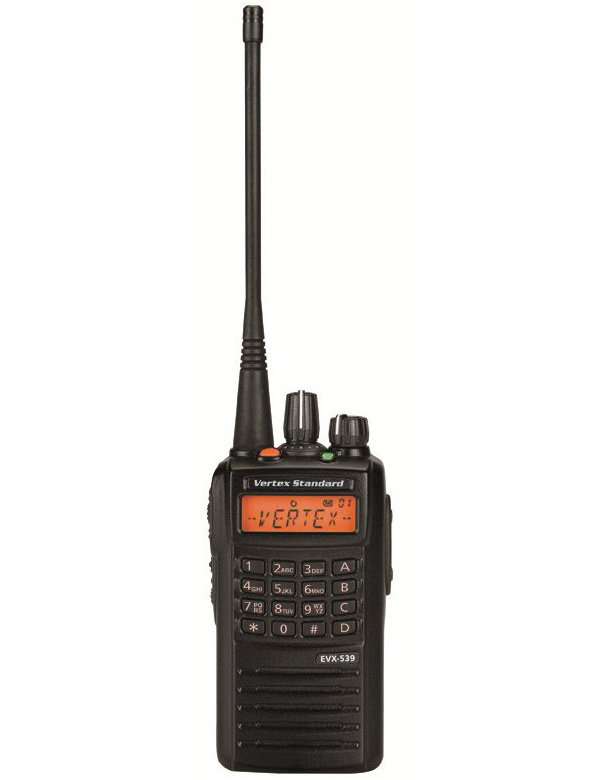 Ease your operations into the digital age with the Vertex Standard eVerge EVX-539 Digital Portable Two Way Radio! There's no need to discard your old analog radios to upgrade. The EVX-539 allows you to operate in both analog and digital modes, so you use your current radios and upgrade to digital as you need! The EVX-539 features mixed analog and digital scan which lets you operate in digital mode while it scans for communications from analog radios, so you can integrate digital technologies with your existing fleet of business two way radios at your discretion.
The EVX 539 is available in your choice of either VHF and UHF with 512 channels. It has nine programmable keys, tri-color LED custom call alert, voice inversion encryption, RSSI indicator, DTMF paging, internal VOX, and an 8 character alpha-numeric display. It also includes remote stun/kill/revive, 2-Tone encode/decode, radio-to-radio cloning, and nuisance channel delete.
The EVX-539 has even more powerful features in Digital Mode, including text messaging, enhanced privacy, remote monitor, PTT ID encode/decode, mixed mode scan, one touch access and a 128 record contact list. The EVX-539 also features Escalert. This important feature causes the radio to emit an alert with increasing volume if it receives a call or text and the user does not respond.
While this radio is feature-rich, it's no digital creampuff. The EVX 539 is a very rugged radio, ready for the elements. It meets the IP57 standards for dust and water protection and is submersible in fresh water to 3 feet for up to 30 minutes.
If you want a digital two way radio with power, no problem. The Vertex Standard EVX-539 has excellent battery life and can operate up to 40% longer in digital mode thanks to DTMA protocol. It comes standard with a 1380 mAh lithium-ion battery pack for up to 7.4 hours in analog mode and up to 9.7 hours in digital mode. If more power is required, you can choose a high capacity 2300 mAh lithium-ion battery for up to 12.0 hours analog or up to 15.8 hours digital operation. The choice is up to you.
Includes one Vertex EVX-539 UHF or VHF digital mobile two way radio, antenna, belt clip, AC charger, lithium-ion rechargeable battery, owner's manual and three year warranty.