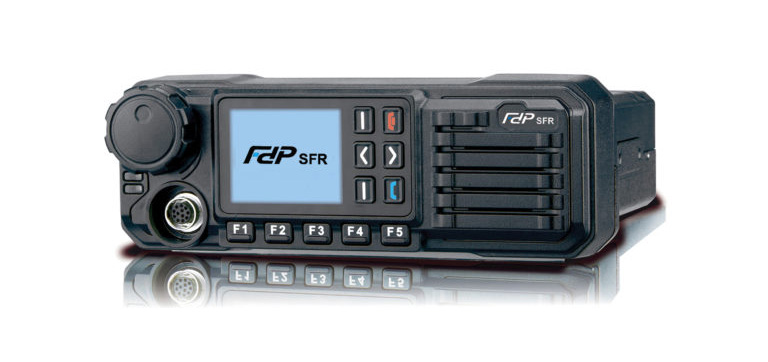 It is not like a conventional Single Frequency Repeater (parrot repeater). This SFR works a bit differently. The FDP SFR simultaneously receives and transmits at the same time, on the same frequency. it does this by utilising DMR's two time slots concurrently. The FDP SFR receives on one time slot, whilst transmitting on the other.
Advantages:
The SFR can be used on an existing LMRS single frequency license, without having to go to the expense of a specific repeater licence (assuming adherence to the license parameters).
A duplexer is not required, so you are not bound by the bandwidth of the duplexer. This gives you frequency agility.
Ease of set-up – no tuned duplexer.
A very cost effective DMR Repeater Solution
Increased coverage on your current license, even at low power limits.
Can be used as a Mobile or Base Transceiver with the use of a microphone, or when in repeater mode – by using a handheld unit in close proximity as a 'remote handheld device'.
Relays other DMR radio's encryption, for maximum security.
A talk-around function is not required when the repeater is out of range, making operation much simpler. The DMR radios will simply talk directly to each other instead (without having to separately activate talk-around or change the channel – like you would have to do with a conventional duplex repeater).
Operation:
The SFR should be used with DMR radios capable of Tier II DMO dual slot trunk (sometimes referred to as pseudo trunk). DMO trunk radios will use whichever time slot is available.
DMR still uses a form of FM transmission, and with FM – the strongest transmit signal generally owns the channel. So the receiving radio will hear whichever signal is strongest, be it from the SFR or from the other radio.
Specifications:
Mode: DMR (Digital Mobile Radio Stan

dard) and Analogue.

TDMA Dual Slots – Tier II Digital

DMO Trunk (pseudo) & RMO

Single Frequency Repeater Mode (DMR) / Transceiver Mode

Analogue integration inc CTCSS/DCS

Approved for LMRS use to 25W

Frequency Range: 400 – 480Mhz

160 Channel – 16 channels per zone

Channel spacing: 12.5kHz digital / 25kHz & 12.5kHz analogue

Power Output: 25W/10W

Modulation: 4FSK – 7K60FXD 7K60FXE 16K0F3E & 10K1F3E

Sensitivity: 0.25uV – 5% BER digital/12dB SINAD analogue

Vocoder: AMBE+2

Weight: 1.5kg

Size: 175mm (L) x 175mm (W) x 63mm (H)

Nominal Operating Voltage: 13.8V negative ground

5 Programmable Function Keys – 10 different settings

Relays digital encryption from other radios, for maximum security

Analogue Scrambler

Large LCD Screen for easier menu navigating