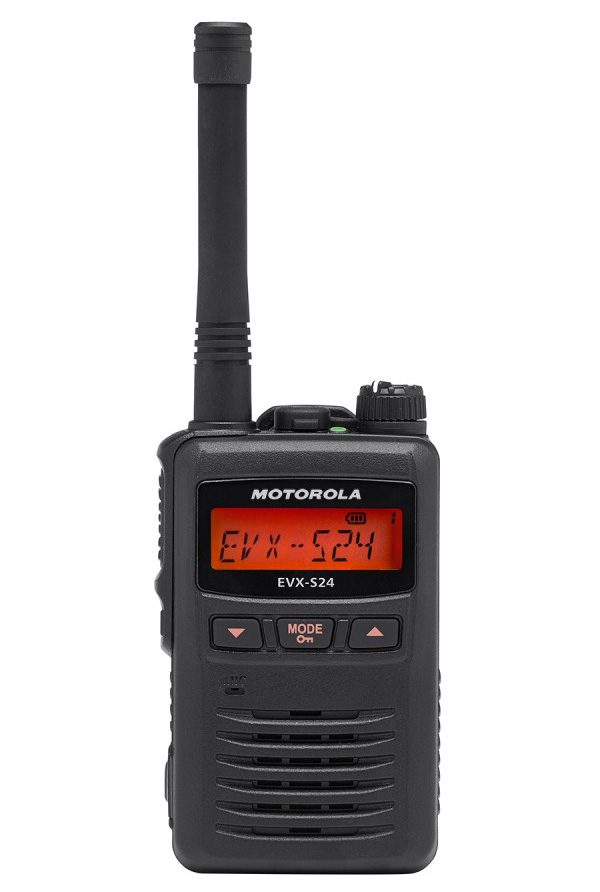 You need a full featured two way radio for your business or institution that's rugged, reliable, and capable of digital operation. It also needs to be ultra-portable. A big, heavy radio is great for a construction worker, but for the first grade teacher, hotel receptionist or the young lady behind the counter in your apparel store, it's just way too much. Your staff needs something small, lightweight and discreet. Here it is. It's the Motorola EVX-S24 Digital Portable Two Way Radio!
The EVX-S24 is nothing short of amazing. Motorola took some of the best features of its higher end analog and digital models and crammed them all into a one tiny two-way that's not much taller and wider than a credit card - and only 1.24 inches thick! The EVX S24 operates on 403-470 MHz UHF frequencies in analog and digital modes. It uses DMR Tier 2 Standard TDMA protocol for compatibility with other DMR digital radios, and can communicate with any existing analog two-way radios using the same frequencies on the UHF business band.
The EVX-S24 may be one of Motorola's smallest and lightest digital radios, but it can hold its own with the big guys, and it's a powerhouse. This little handy talkie puts out 3W of power in digital mode and 2W in analog mode, with a 500mW speaker to boot for loud, clear audio. It can store up to 256 channels and 16 groups, with CTCSS/DCS, 2-Tone and 5-Tone encode/decode, DTMF capability, MDC-1200®, ANI encode, and other signaling features typically found on radios twice its size and price.
The EVX-S24 does analog with Voice Inversion Encrypton and ARTS™ (Auto Range Transponder System) to let you know when one of your workers is out of range. Multiple scanning options, Busy Channel Lockout, Whisper Mode, escalating alerts and Lone Worker Alert features provide the additional functionality you expect from a bigger radio. These features aren't optional. They aren't add-ons. They are all packed right inside.
When it comes to digital, the EVX-S24 does it with Basic and Enhanced Privacy, Text Messaging, Call History, Direct Mode, Analog and Digital Mixed Mode Scanning, Site Search, and Remote Monitor Decode. It also includes All Call, Group Call and Private Call.
Of course, not all the functionality is on the inside. The EVX-S24 has four programmable keys, a programmable multi-color LED, a backlit LCD display and backlit keys. Inside, it's packed with powerful features. Outside, it's designed for easy, worry-free operation.