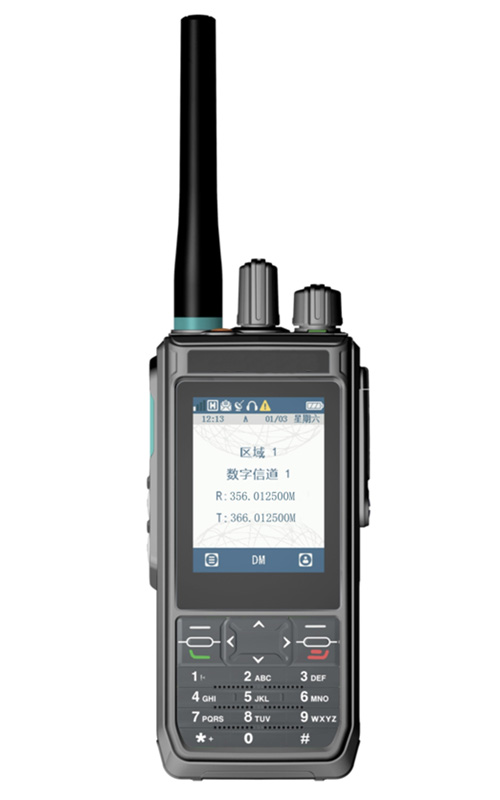 Humanized appearance design
The 2.4-inch semi reflective and semi transparent LCD color display screen is used to make the displayed information clear at a glance even in the outdoor strong light. Ergonomic appearance design greatly enhances the accuracy and comfort of operation.

Support multiple working modes
Cluster mode (TM): support pdt/dmr digital trunking communication system business, and realize cluster communication functions such as selective call, group call, personal call, etc. Normal mode (dm/rm): fully support digital and analog services in direct (DM) mode and digital and analog services in relay (RM) mode

Support multiple standard protocols
It supports pdt/dmr digital conventional and trunking standard communication protocols, which can easily meet customers' different use environments and needs, and enable users to make a smooth transition from analog communication system to digital communication system.

Bluetooth voice / data service
It supports Bluetooth 4.2 standard access, Bluetooth frequency writing and Bluetooth call functions, making the product more versatile.

Gps/ Beidou Positioning Mode
It supports gps/ Beidou Positioning, and can realize the transmission of gsp/ Beidou location information. Combined with the command and scheduling software, it can visually view the location of personnel on the map and make voice calls with them.

Reliable and durable quality
The quality conforms to the national military standard and IP67 industrial protection standard, thus ensuring that the product structure is firm and durable, wear-resistant, anti-aging, and can play an excellent performance in various harsh working environments.