Car Mobile Radio Megajet MJ-400 Turbo
Russian and European Frequency Grids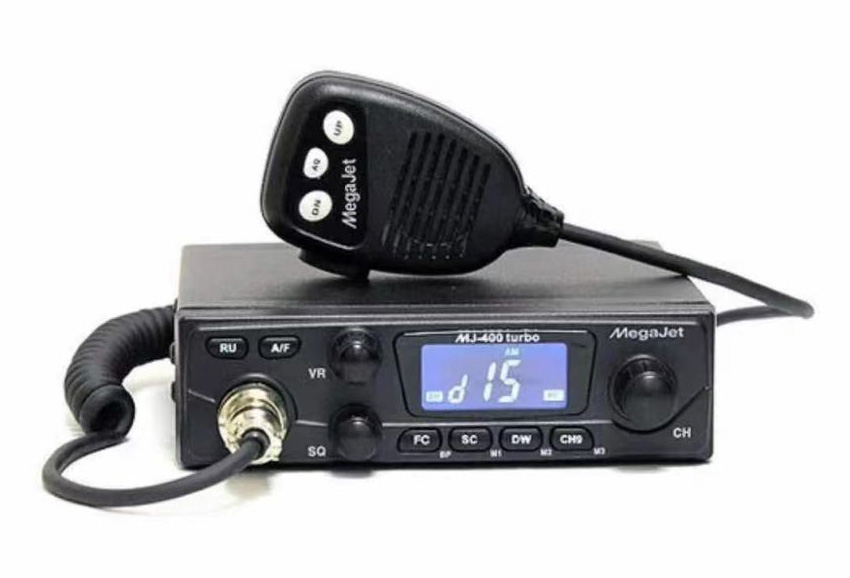 Megajet mj-400 uses 240 frequency channels of Russian and European frequency grids (240r + 240e) to operate. The maximum power of the transmitter is 8 W. There is a quick switching from the European to the Russian frequency grid at the touch of a button.
For the most accurate setting and stability of work in The megajet mj-400 Turbo, a modern frequency synthesizer with phase construction is provided. The radio station itself has non-volatile memory and saves user settings when power is turned off.
Megajet mj-400 Turbo features a compact housing, the model has high noise protection and works with amplitude and frequency modulated/FM signals, It is also possible to connect an external loudspeaker. The station can be used in both stationary and mobile versions, due to its energy independence.
Radio Station Functions
Power 8 W

Fast switching between Russian and European grids

CPU Samsung 3p8249xzz-twr9

Energy-independent memory of channels and settings

LCD display

Light blue color

Efficient all-metal radiator-panel with increased cooling surface

Speaker of increased power of the Company "star" (8 ohms, 3 W, square 76x76mm)

Reliable tangent with dynamic microphone ds-3051-150 om

Listening to two channels dual watch

Channel scanning (scan)

RF signal level indication (RX / TX) and mic (modulation)

Channel/frequency indication (FRQ)

Backlight buttons control

Emergency configuration on Channel 9 (Ch9)

Function of sound confirmation of keystrokes (BP)

Transmission end signal function (RB)

Three memory

Ability to connect an external speaker